Peanut Spiky Massage Ball
Just use this Spiky Massage Ball multiple times a day, around the area of the body in need of a massage to get a great deep tissue massage. Help loosen tough knots, reduce muscle aches, tightness.
Peanut ball is designed to replicate human massage therapist finger tips. Includes different bumps and levels for maximum relief and healing.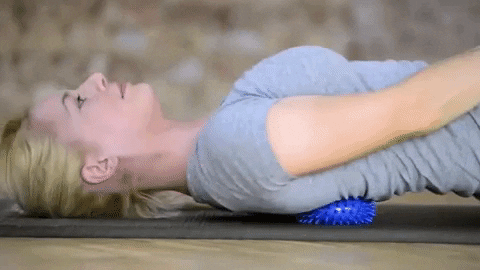 IMPROVE CIRCULATION: Spiky bumps for reflexology therapy stimulates nerve centers to provide myofascial release. Improve circulation and speed up the healing process for any pain. 
RELIEVES PAIN AND TENSION - This Spiky Ball provides external physical pressure to muscles to help remove tension. Is the perfect solution for release sore and tight muscle knots, myofascial release, plantar fasciitis, chronic back & shoulder pains.
LIGHTWEIGHT PORTABLE: 2.8*6 inch, Lightweight, portable travel size. For men, women and kids. Take with you anywhere and easily fit in any bags.
EASY TO USE - Simply lean on the Peanut Spiky Massage Ball against a wall or floor and use your own body weight to relief stress muscle knot and tension to encourage blood and oxygen flow to enhance movement, range of motion and circulation.